Did you know that there are different types of damp? Rising damp, penetrating damp, and condensation are the common types of damp that occur in UK homes. Here in this article, we will discuss what causes penetrating damp.
What does
Penetrating Damp look like?
Also referred to as lateral damp, penetrating damp occurs when the water passes unhindered through porous stonework and bricks from the outside of your building and into the property. It can happen at any level within the building, including walls, ceilings, and roofs.
Penetrating damp is a common damp problem found in old properties with solid walls. Older buildings that have poor maintenance are at higher risk of experiencing this penetrating damp problem. Modern buildings have more protection from lateral damp due to the usage of cavity walls.
However, a modern building may also suffer from penetrating damp where there is defective artistry or design error.
Like other damp, if left untreated for an extended period, it can cause structural issues and considerable damage to your property.
In addition, it can also cause fabric deterioration, including damaging the walls, ceilings, and floors and causing the timber to rot if you don't identify penetrating damp on time.
What does penetrating damp look like? It can affect entire wall areas or form patches. It can get worse after a heavy downpour.
So your home or commercial building in the UK is at risk of rainwater penetration. Penetrating damp commonly affects the areas exposed to extreme weather conditions or there is a structural defect in the property.
Get a no obligation FREE quote now. Our team is here to help. Take the first step towards a guaranteed solution by filling out our form below. 
What Causes Penetrating Damp?
Lateral damp commonly occurs if you live or own a building with structural defects, defective roof coverings, or faulty pointing to windows and doors. Defective masonry is also a significant cause of penetrating damp.
Building Defects
Inadequate drip grooves, damaged roofs, leaking downpipes and gutters, defective seals around doors and windows, and other building defects are the main culprits causing penetrating damp.
If you find any defect in your property, it should be fixed immediately because they are a continuous source of damp that can ruin your interiors.
Damaged Brickwork
Faulty pointing and spalled bricks can also be the reason behind penetrating damp. Damaged brickwork is not able to fully withstand rain penetration.
Also, it further causes damage to the masonry by deteriorating structural instability. When mortar and spalled brick joints can be seen, the masonry should be checked to determine the extent of damage caused by penetrating damp.
The damaged joints can be waterproofed and repaired against additional damage with repointing additives.
Porous Bricks
Another cause of penetrating damp is porous bricks. Water permeates through the pores and penetrates masonry. Whenever it rains, the water seeps through the brickwork.
It causes isolated damp patches on internal walls that increase in size during heavy rains. Water repellent creams and chemical agents are the best for treating penetrating damp.
Bridging the DPC causes penetrating damp
In addition to the points mentioned above, brickwork, render, and pointing can deteriorate with frost, physical damage, or age. When the older buildings are affected by penetrating damp, they can deteriorate over time or be storm-damaged.
If the building structure fails, your property enables the moisture to soak entirely across the wall. It shows that the waterproofing system of your property is failing.
Penetrating damp is found where the external ground levels are higher than the damp-proof membranes or internal floors to concrete floors. Moreover, the damp can also be found in the areas such as the cellars or the basement of your building which are below ground level.
Proper diagnoses of the damp issue are significant to specify an appropriate remedy.
Signs of Penetrating Damp
Like every other damp, penetrating damp is unsightly and leads to expensive structural timber rot repairs. If you know the symptoms of penetrating damp, you can deal with them as soon as possible. Here are some of the common symptoms of penetrating damp:
Damp, irregularly shaped patches

Damaged plaster

Black mould growth

Leaky roof

Damaged timber

Musty smell
The localised damp patches on random locations won't dry out, even if you use many techniques to dry them. Besides, these damp patches or watermarks on the walls get more prominent after the heavy downpour. Another sign of penetrating damp is salting.
It is the process in which the water brings the natural salts of the wall to the surface and results in a puffy residue found on your decoration or plaster. It is one of the main causes of penetrating damp because the salts absorb moisture and cause damp patches.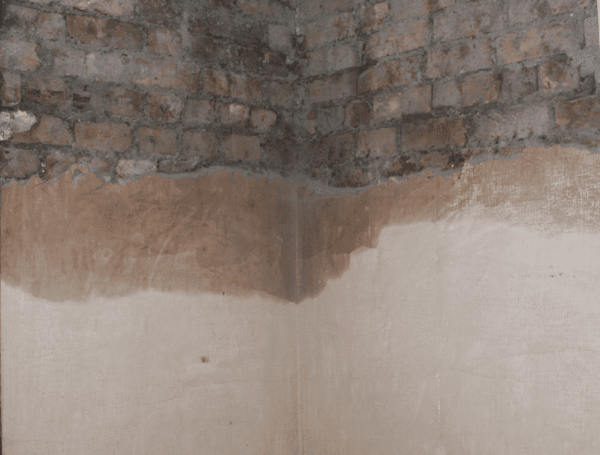 Areas Affected by Penetrating Damp
The places where you are more likely to find penetrating damp include:
External Walls
Missing mortar pieces or cracks in masonry can cause penetrating damp. If this is the situation, then ensure that these are repaired with a suitable filling material. The external render or masonry becomes porous or cracked, breaking the render from the masonry and enabling rainwater to enter.
Roofing
Roof ridge tiles, the pointing, missing tiles, and the joint where the roof meets the chimney or wall are the main areas to check for penetrating damp. If you find any loose or missing, you need maintenance to prevent penetrating damp or stop penetrating damp.
Door Frames
Cracks that might exist around door frames require repair. Apart from this, if the external door of your building lacks a weather bar which is a board at the bottom that protects from excessive rain, then it is time you get one installed.
Window Frames
You must inspect window frames to see if they have any cracks or gaps. If they exist, then they must be filled with a frame sealant. Besides, ensure to check that a groove is installed under the window sill that is needed to stop the water. If it exists, ensure that it is filled in with a hardwood strip.
>> Related Reading: How To Stop Condensation On Windows In The Winter?
External Downpipes, Gutters, and Drains
You must check the external rainwater goods whether are leaking or not. You must inspect drains to make sure they are not clogged, causing water to enter the building. 
Get a no obligation FREE quote now. Our team is here to help. Take the first step towards a guaranteed solution by filling out our form below. 
How to treat
Penetrating Damp?
Before you look for the options, you need to diagnose the causes behind the damp properly. Then, you should consult a penetrating damp survey expert who can survey your property and advise you to eliminate the damp issues.
Commonly, traditional building techniques are used along with repair systems and new products to dry out your building. In addition, you can apply a chemical water-repellent or physical membrane to stop the penetrating damp problems from returning if it is appropriate.
In severe cases of penetrating damp where the mortar and stonework become too porous that the damp is soaked through the external walls into the property, you can use a special cavity membrane fitted to the outside of the external walls with a typical render. The membrane system waterproofs the exterior of the building.
Once the damp is diagnosed, it takes some time for the fabric to dry out, depending on the drying technique being used.
Role of Cavity Wall Insulation
Cavity wall insulation is quite popular as it enhances the heat retention of the building. It is common in UK houses. The cavity wall construction includes an inner wall built to surround the interior of the building and an outer wall covered with pebbledash, paint, or render.
There is a gap left in the cavity between the two walls to protect the interior walls from damp.
Contact us for penetrating damp treatment
If your property is experiencing penetrating damp, call our damp specialists to book a survey