Advanced Damp: Wet Rot Treatment Services
Wet Rot Treatment Services near me
Wet rot can be a serious problem for homeowners, causing structural damage and leading to costly repairs. Left untreated, wet rot can spread quickly and cause significant damage to your home's structure. Not only is this dangerous, but it also comes with a hefty repair bill that you don't want to have to pay.
Advanced Damp offers professional wet rot treatment services that will stop the spread of wet rot in its tracks. Our team of experts use the latest techniques and technology to ensure your home is safe from further damage caused by wet rot. With our help, you won't have to worry about expensive repairs or potential health hazards due to dampness in your home.
If you're looking for London Wet Rot Treatment Services, please contact us today! We serve the South East of England. 
Find my local Wet Rot Treatment Services near me
Call us today for more information on 0208 629 1517
Highly qualified & Professional house rendering London
What is Wet Rot Treatment Service?
Wet rot is a common type of wood decay caused by fungi that thrive in damp and poorly ventilated areas. Our wet rot treatment service aims to eliminate the cellar fungus, repair any affected wood, and prevent the recurrence of wet rot by addressing the underlying causes of dampness.
How Advanced Damp Tackles Wet Rot
Our professional team employs a systematic approach to identify, treat, and prevent wet rot:
Inspection: Our experienced surveyors conduct a thorough inspection of the affected area to assess the extent of damage and identify the source of dampness.

Treatment: We use advanced fungicidal products to eradicate the wet rot fungus and restore the affected wood.

Prevention: We implement various damp-proofing measures, such as ventilation improvements and moisture control, to prevent future wet rot occurrences.
Different Types of Wet Rot Treatments
At Advanced Damp, we offer a range of wet rot treatments to suit the specific needs of your property:
Fungicidal treatments: Our high-quality fungicidal products effectively eliminate the wet rot fungus and protect the wood from future infestations.

Timber resin repairs: In cases where the wet wood rot has caused severe structural damage, we use timber resin repairs to restore the strength and integrity of the affected timber.

Damp-proofing solutions: Our team specializes in providing tailored damp-proofing solutions, such as penetrating damp-proof courses and cavity wall insulation, to address the root cause of wet or dry rot.
Signs You Need Our Wet Rot Treatment Services
Watch out for these common signs of wet rot infestation on your property:
1. Soft, spongy, or discoloured wood
Wet rot fungus breaks down the cellulose and lignin in the wood, which are essential components for its strength and structure. As a result, affected wood becomes soft, and spongy, and may even crumble when touched. The discolouration is another sign of wet rot, as the decay process changes the wood's natural colour, often giving it a dark brown or black appearance.
2. Musty, damp smell
A musty, damp odour is a strong indicator of wet rot, as the fungus produces a distinctive smell when it feeds on the moisture in the wood. This odour is usually more pronounced in poorly ventilated areas, such as basements, crawl spaces, and hidden corners of your property.
3. Cracked or peeling paint
As the wet rot fungus causes the wood to swell and distort, the paint or varnish applied to the surface can crack, peel, or blister. This sign is particularly evident on window frames, doorframes, and skirting boards. If you notice such changes in your paintwork, it's crucial to investigate further and address the underlying issue, as it may be a symptom of wet rot.
4. Fungal growth on wood
The presence of visible fungal growth on your wooden structures is a clear sign of wet rot. The fungal decay often appears as a white or grey cotton-like growth or as dark, fruiting bodies that release wet rot spores. If you spot any fungal wet rot growth on your wood, it's essential to seek professional help immediately, as this indicates an active infestation that requires prompt treatment.
5. Damaged or lifted floorboards
As wet rot weakens the wood, floorboards can become warped, damaged, or start to lift. This may cause an uneven or springy feel when walking on them. It's important to address this issue quickly to prevent further damage and maintain the structural integrity of your property.
6. Damaged or decaying joinery
Wet rot can also affect wooden joinery elements, such as doors, windows, and architraves. You may notice that doors and windows are sticking or becoming difficult to open and close. This can be a result of the wood swelling due to moisture absorption and wet rot decay.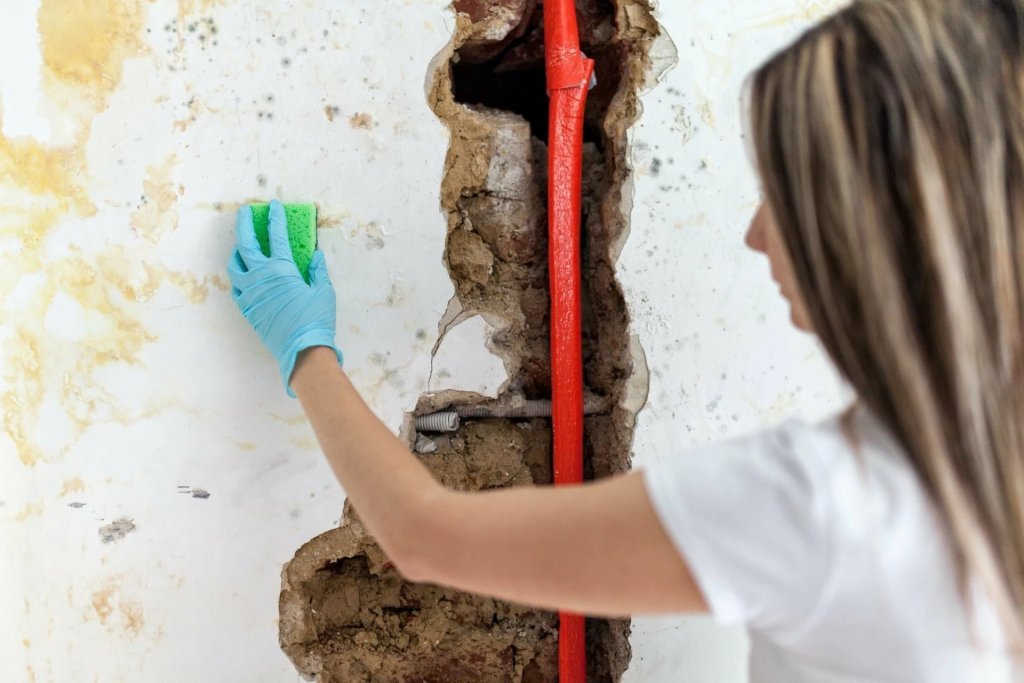 Benefits of Using Advanced Damp's Wet Rot Treatment Services
Choosing Advanced Damp for your wet rot treatment needs comes with numerous advantages, including:
Expertise and experience: Our team of professionals has extensive experience in diagnosing, treating, and preventing wet rot. We stay up-to-date with the latest industry developments and use tried-and-tested methods to deliver reliable and effective solutions.

Comprehensive service: We provide a complete range of services, from initial inspection and diagnosis to treatment and prevention, ensuring a one-stop solution for all your wet rot needs.

Tailored approach: We understand that every property is unique, which is why we customize our wet rot treatments to suit your specific requirements, ensuring the best possible results.

Long-lasting protection: Our high-quality fungicidal treatments and damp-proofing solutions not only eradicate wet rot but also protect your property from future infestations, providing long-term peace of mind.

Guaranteed satisfaction: We take pride in our work and are committed to delivering excellent customer service. Our satisfaction guarantee means that we won't rest until you are completely satisfied with the outcome of our services.

Preservation of property value: By promptly addressing the wet rot problem and preventing future occurrences, our services help preserve and even enhance the value of your property, making it a worthwhile investment.

Healthier living environment: Wet rot can contribute to poor indoor air quality and aggravate allergies or respiratory issues. By treating wet rot, we help create a healthier living environment for you and your family.
Choose Advanced Damp for all your wet rot treatment needs and experience the benefits of our professional, reliable, and effective services.
Get a Free Quote for Your Wet Rot Treatment Today!
Don't wait until it's too late. Get in touch with our experienced team of wet rot specialists for a free quote for your wet rot treatment today and treat wet rot off your property from further damage. We look forward to helping you achieve the best results!
Contact Advanced damp for a professional House Rendering London & Home Counties