Penetrating Damp is a prevalent issue in UK properties that can cause significant damage beyond affecting the property's appearance. It can result in the decay of masonry and plaster, deteriorating timber, and an unhealthy living environment for the occupants.
Unfortunately, improper treatments for Damp can cause more significant harm to old properties. Due to the severity of these issues, penetrating damp treatment costs can widely differ.
There are many types of damp, including rising Damp, penetrating damp, and condensation. Penetrating or lateral Damp is a common problem property owners in the UK encounter.
>> Related Reading: What causes Penetrating Damp? Signs & Treatment
This type of Damp is caused due to external defects in your home. Sadly, it can result in severe penetrating damp problems as well in your property with visible signs of damages done by damp.
Before discussing the penetrating damp treatment cost, let's take a quick look at penetrating damp for a better understanding. If you would like to speak to a specialist for immediate treatment costs, contact Advanced Damp now.
Get a no obligation FREE quote now. Our team is here to help. Take the first step towards a guaranteed solution by filling out our form below. 
What is penetrating damp?
When water passes through a wall and into your home, piercing all the barriers or protective coatings and damaging the inner side of the house or any building, it is known as penetrating damp.
Penetrating Damp can also arise when rainwater penetrates a masonry wall's building materials due to exterior damages or over a cavity wall insulation, such as rubble or insulation.
Penetrating Damp occurs when there is a defect in the property or when stone or brick walls have degraded so much that they become porous and permit water ingress to pass via the external walls into the building.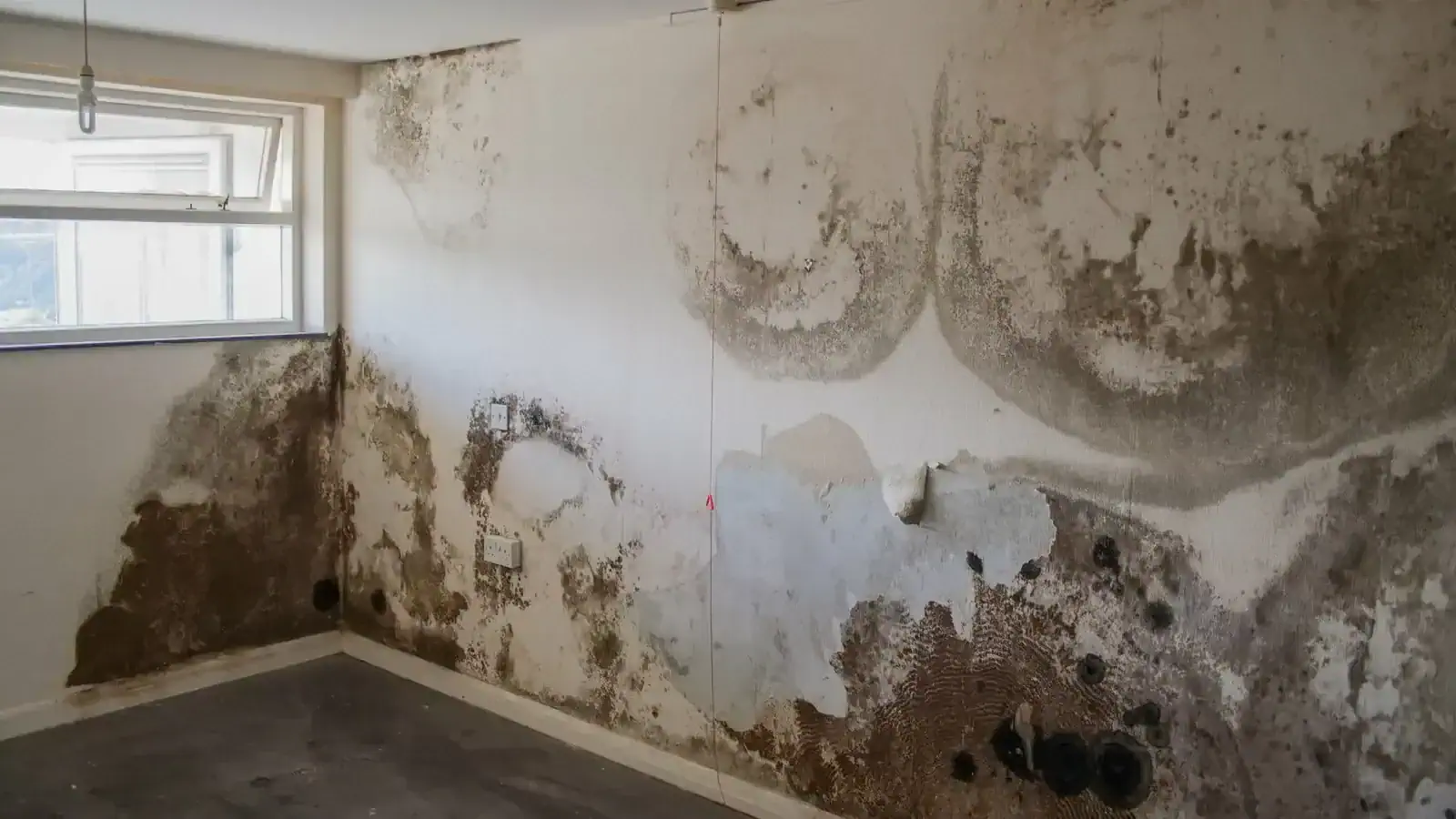 Common signs of penetrating Damp?
➜ Watermarks
Watermarks on walls, ceilings, cabinets, and carpets are all signs of Penetrating Damp. If the stain has dark spots, know that the damage is still fresh, but if it is brown or chalky, it is older damage usually caused by excess moisture.
➜ Blistering Plaster
when the inside of a wall gets wet and expands, it is generally accompanied by blistering plaster, peeling paint or wallpaper. This shows a problem that should be fixed as soon as possible.
➜ Presence of mould
Mould can't grow without moisture; as long as areas in your home remain wet, moulds are bound to succeed. This is usually a problem noticed where we have Penetrating damp.
➜ Damaged interior
If your interior decorations become damp and have water stains, know that you have the problem of penetrating damp in your hands.
➜ Damp or Musty odour
A damp or musty odour is another sign of Penetrating damp on interior walls. The musty smell is often similar to winter sweaters that have been packed away.
➜ Rotting floor timbers
If your floor timber is wet and rotting away, it means there's a problem of penetrating damp around. Contact a specialist for penetrating treatment advice.
The most common signs of penetrating Damp are:
Damp patches on ceilings or walls
Wet and crumbly plaster
Damp stains on external walls
Drips and puddles
Spores or black mould that is isolated to one area
Causes of penetrating Damp
Several sources can cause penetrating dampness:
Water leaking or seeping through the walls
Broken or blocked gutters
Damaged wall bricks that lose their weatherproof defence
Various structural issues in the property
Old bricks allow problematic water ingress
Cracks and openings in walls
Cracks or holes in window frames or door frames
Missing or broken roof tiles
Damp, musty smell
What damages can penetrating damp do?
Get a no obligation FREE quote now. Our team is here to help. Take the first step towards a guaranteed solution by filling out our form below. 
Is it dangerous for our health?
The recognisable musty smell and damp look may be unpleasant, but the health effects of penetrating Damp are minimal if dealt with quickly. However, it is not healthy for people to reside in damp conditions for a long time, and the problem needs to be resolved immediately.
Experiencing severe penetrating damp issues can lead to condensation and the development of black mould, which can cause serious health issues such as allergies. These black mould spots look ugly and attract germs and microbes to your place. All these uninvited guests can cause health issues.
Is it Possible to Identify Penetrating Damp?
Identifying penetrating Damp is simple. First, you will see some wet brownish watermarks or spots on the areas this type of Damp affects. Generally, these are separate from windows, floors, and ceilings.
You can contact a damp specialist, and they can conduct damp surveys. They have a damp detector, and the affected areas will show high readings.
It mainly depends on the severity and location of the affected property. But without a doubt, the perfect solution for all the problems that cause penetrating damp is the traditional repair methods, such as re-pointing affected areas, fixing cracks, and replacing leaking pipes and drainages.
For old buildings, traditional materials work best, such as lime mortars. However, most penetrating damp cases can be treated using the latest technologies and methods.
In short, you can treat penetrating damp!
Furthermore, there are main points of water ingress that are not good for any building, which is:
Porous brickwork
Defective pointing
Cracks and openings
Faulty rainwater disposal
So, it is vital to keep all these areas in good condition, and if any dampening issues arise, treating penetrating damp thoroughly as early as possible can save the more extensive destruction.
You will also find many external treatments to stop penetrating damp on the market, such as cladding external and interior walls and various water-repellent treatments.
However, these methods are not permanent and only hide the problem rather than eliminate the damp source. Further, these also decrease the impermeability of an exterior wall which can increase the moisture level inside the building or solid wall construction.
There are various breathable penetrating damp treatments on the market for the damp, but again these are temporary, and it is essential to address the source of the problem.
Penetrating damp treatment & Solutions
---
Advanced Damp is an experienced team of penetrating damp treatment experts. Our company have over 30 years' experience and covers the South East of England and surrounding areas. To contact a Penetrating damp treatment professional and rectify your problem immediately, call us now on 0208 629 1517.
The penetrating damp treatment process
To treat penetrating damp, we first visit your property and conduct a penetrating damp survey to determine the cause of the problem; during the survey, we will check all potential points of water ingress, such as cracks on the walls, missing tiles or blocked gutters.
Once the penetrating damp issue has been diagnosed, we begin our remedial work to effectively repair the penetrating damp problem and keep your protect your property from further damage. Depending on the level of the damp, we may install a PIV unit in your property to stop penetrating damp that will push out the wet, stale air and keep your walls and windows dry. Suppose the problem is the brickwork or stonework becoming porous due to the build-up of water in the wall. In that case, we use specialised Vapour retarders to reduce moisture diffusion through the walls, floors, and ceilings, then use specialised drying equipment to do the rest in treating penetrating damp.
If the penetrating Damp has affected your property's plasterwork, the plasters will be removed entirely, and a damp-resistant plaster will be applied to resurface the area.
If defective brick is the problem, we may get them replaced or paint the bricks with an exterior silicone water-repellent fluid to seal the bricks from damage.
If the timbers have been infected with dry or wet rot rising damp patches, these can be either treated, protected or replaced. A damp proof course may be installed too.
Finally, if you have mould problems, we commence remediation to remove contaminated materials and clean up the affected areas.
Get in touch now for effective and reliable penetrating damp treatment.
Penetrating damp treatment cost?
How much does penetrating damp treatment cost? The cost of treating penetrating damps depends on the problem's severity and the affected area's size. If the problem is caused due to porous building material, it can be treated with damp protection creams.
It can be below for a minor repair and much higher for professional jobs, which include protection, damp proofing, and plasterwork. The fixing or repairing cost also depends on what types of fixing are required; there is no single fix for all penetrating damp problems. The fixes can be:
Changing brickwork or replacing bricks
Minor re-pointing
Small fixing of leaking pipes
Penetrating damp FAQ's
What is penetrating damp?
Penetrating damp is a type of damp that occurs when water penetrates the walls and ceilings of a building, causing damage and potential health hazards.
What causes penetrating damp?
Penetrating damp can be caused by a number of factors, such as leaking pipes, damaged roofs, or poor ventilation. It can also be caused by external factors such as heavy rain or flooding.
How can I tell if I have penetrating damp?
Signs of penetrating damp include damp patches on walls or ceilings, peeling paint or wallpaper, and a musty smell. If you suspect you have penetrating damp, it's essential to seek professional help to prevent further damage.
What should I do if I have penetrating damp?
It's important to address the underlying cause and repair any damage if you have penetrating damp. This may involve fixing leaks or improving ventilation. It's also essential to thoroughly clean and dry any affected areas to prevent mould growth.
Can penetrating damp be dangerous?
Penetrating damp can be dangerous, leading to structural damage and potential health hazards such as mould growth. Addressing the issue as soon as possible is essential to prevent further damage.
Penetrating Damp Specialist
Most of the time, it is recommended that you look for damp experts in the field who will identify penetrating dampness and correct the defect in the building that is causing water to penetrate the building. If the condition is left untreated, it can cause deterioration to the structure of your property. At Advanced Damp, we have qualified and competent damp surveyors to prevent penetrating damp problems and experienced technicians to provide affordable penetrating damp treatment.
We also offer rendering, exterior wall coatings, and drywall plastering solutions for penetrating damp treatments. Visit our property services page on our website to learn more about our services.
You can contact us today and get a survey from our experts. We will visit your property, conduct a thorough analysis, and inform you regarding the estimated penetrating damp treatment cost.