Introduction to rendering exterior walls & outside walls
Altering and improving your home's exterior is one of the most effective ways of adding value to your property. A new render is the cheapest way of accomplishing the same. The first thing that any potential buyers or visitors will see is the exterior look of your house.
Thus, making sure it has kerb appeal is quite important, especially if the existing exterior is in bad condition or made with a mixture of mismatched materials.
Rendering a house's exterior can turn it into an energy-efficient, stylish, and contemporary home. Whether you are getting ready to sell or designing the dream family home, rendering can considerably increase the value of your property.
Learn more about rendering exterior walls
Rendering exterior walls is the process where external wall coverings are applied with render to protect the blocks or bricks from which the building is constructed. Normally, it is covered with a thin coat of paint or any wall coating to protect the render surface from erosion or cracks.
You need good maintenance of the wall covering if the exterior walls of your building are rendered to prevent instances of water ingress and penetration of damp through the render finish into the house.
Render can be sand and cement render scratch coat or a more breathable, flexible polymer render for houses with solid walls, or other right materials such as lime render, acrylic render, monocouche render, silicone render, and mineral render.
It helps to hide mismatched brickwork or poor-quality period properties and creates a uniform finish on contemporary homes. It can be painted later or comes already self-coloured. Render works well with timber cladding or external masonry paint to add architectural interest.
Also, you can match it with external wall insulation to improve energy efficiency and save costs on heating in the long term.
Why do You need to Render the Exterior Walls of Your House?
At some time or the other, most homes need a facelift once or twice in their lifetime. Most buildings need a waterproof render application if the brickwork is eroded or damaged for more improved protection of the property.
Weather Resistance
The most common reason to render external walls of your house is to make them water-resistant and reduce maintenance costs. The bricks are porous and act as a damp sponge and leading to water ingress through the cavity wall resulting in penetration damp.
The surface of bricks crumbles when water enters the external layer, followed by freezing weather, resulting in ice crystals. Rendering your home can effectively seal the bricks, saving them from water and ice damage.
>> Also Read; How to Identify areas of heat loss and insulation issues
Insulation
Buildings that lack cavity walls benefit from insulation. But, modern homes cannot use cavity wall insulation. Modern houses have a little insulating effect.
In these situations, render can provide insulation. It is no surprise that installation costs are more expensive than cavity wall insulation, but it is very effective, and you must have the brickwork with intact waterproof pointing.
Using external wall insulation render insulates the house. Apart from insulation renders, you can use acrylic renders and polymer because they have a higher insulation rating than cement renders.
If you are paying the scaffolding labour cost and rendering existing renders, then it is sensible to think about external wall insulation.
Get a no obligation FREE quote now. Our team is here to help. Take the first step towards a guaranteed solution by filling out our form below. 
Damp & Mould
With porous surfaces acting as damp sponge, your home is at great risk of getting infected with mould and damp. Damp damages the house's structural integrity and elevates various health issues. It can also destroy the furniture and the furnishings.
Using a high-quality, smooth finish render prevents penetration, damp, and mould from invading your building.
Usually, after the second coat of the render, damp can be prevented from entering the house. However, it will not help eliminate the existing damp and mould in your home. So, it is for you to decide to treat condensation, rising damp, and penetration damp, among other problems.
Aesthetics
Though many utility reasons make rendering a house more important than ever, the top reason is improving the look.
Apart from improving the damaged brickwork, rendering can brighten up a shabby wall and give the whole building a facelift. Some properties can have unattractive wear from years of exposure or a real mish-mash of brick materials.
Applying render changes their look completely, giving you a smooth finish. Nowadays, the standard is to use smooth white render.
Moreover, if your render is tired and old or cracked, it is necessary to consider re-rendering. It involves stripping the existing render and starting afresh on the exposed wall. Perhaps your brickworks has masonry paint.
In this case, installing render would be a great way to re-paint every few years. Rendering the whole wall improves the house's look, enhancing the curb appeal and making it more favourable to buy.
What is The Best Weather to Render an External Wall?
It would help if you considered weather conditions while rendering walls. It is extremely important and more so in the case of external walls.
Though your trustworthy tradesmen will guide you in the right way, you should also be aware of the appropriate conditions. In adverse weather, rendering a wall becomes necessary.
When extremely hot weather, the render mix might set in too instantly, leading to cracks. On the contrary, when it is extremely cold, it will cause the render mix materials to slide down, making it messy.
This is why it is best to choose the right weather for the job. A pleasant day, maybe cloudy but with no chance of receiving rain, is the most suitable rendering. Cement renders on walls improve the aesthetic appearance of the building. Besides, it also improves the fire rating and waterproofing.
To get the best result, trustworthy tradesmen need to use the most suitable material and room temperature water to mix the render mixture. Also, they must apply to render each layer that is a standard centimetre thick.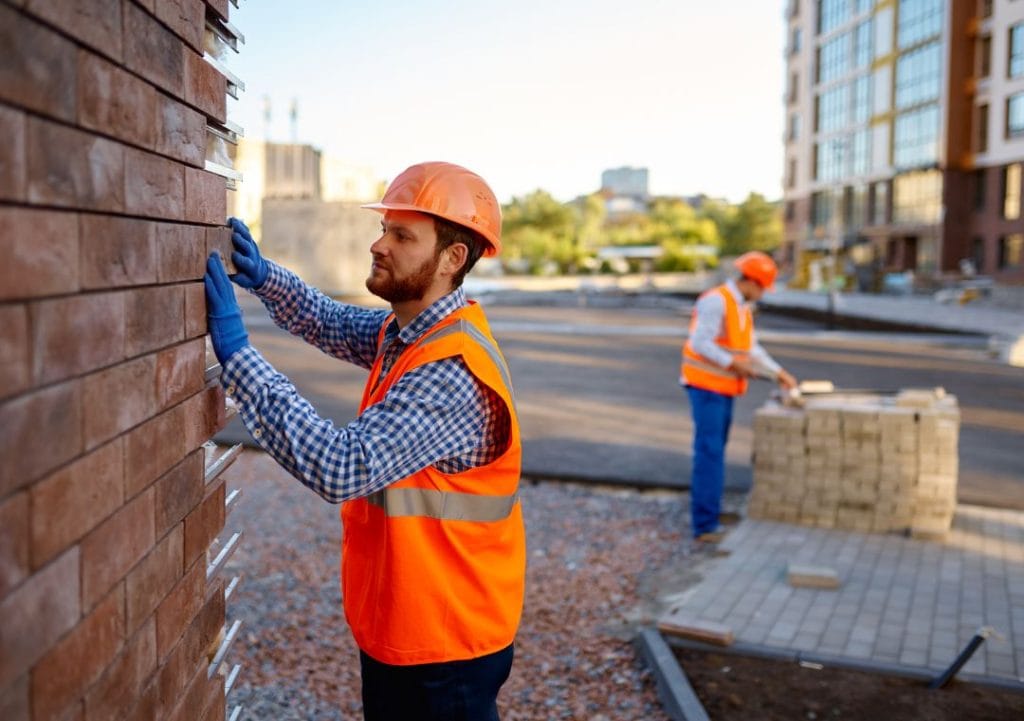 How Much Does House Rendering Cost?
The cost of rendering a house varies depending on the area of your property, the size and experience of your tradesman and the house itself, in a few cases.
Property-Based
2-Bedroom House
The cost of this property is around £2500 to £3500 if you are using the cement renders for a smooth finish. Rendering a pebble dash may cost about £1000. This method is labour-intensive and time-consuming.
3-Bedroom Terraced House
This type of property requires, on average, five to eight days to render, with the cost falling between £3000 and £5500 approximately. It is a two-person hob requiring one for mixing render and delivering and the other for applying render.
4-Bedroom Semi-Detached House
It costs around £3000 and £5500 on average and needs 5 to 8 to complete the job. Again, it requires two kinds of professionals to complete the rendering job.
5-Bedroom Detached House
It needs scaffolding to reach higher storeys, which has increased labour costs. It may take two weeks or more to complete the rendering job and costs around £6500.
Material-Based
According to the material, the rendering prices are:
Sand and cement render
The cost of external house rendering with sharp sand or coarse sand and cement rendering is around £35-60/m². It includes two coats of external masonry paint.
Monocouche render
The cost of monocouche rendering is probably more than £40/m².
Lime render
It tends to be time-consuming as compared to others to apply. Thus, start at a little more cost from £45-50+/m².
In addition, if you want to fit external insulation with a render finish, then the cost is approximately £70-90+/m².
Do not forget that the wall rendering choices you make are typical to single contractors. Through several types of rendering that can easily be found under alternative names or labels, one must look for more specific possibilities.
This way, you have a chance to reduce your rendering expense by just paying for whatever the surface needs, and you need not invest more than you can afford.
House rendering of whole walls can ultimately be an expensive house improvement project. You must think of it to be an investment rather than a luxurious spend after it enhances the value of your house in the long run along with your living standards.
Before choosing your contractor, compare quotes from different tradesmen to ensure you get the best deal.
Get a no obligation FREE quote now. Our team is here to help. Take the first step towards a guaranteed solution by filling out our form below. 
Is rendering external walls worth it?
There are many good reasons for looking to render your property, even if you live in a more contemporary house.
However, it is not cheap for your home, especially if you have a large property. Think thoroughly about the type of render you want to go for and choose the right type of rendering as per your requirements.
Besides, carefully think about what you want to for and whether to insulate simultaneously as there is an investment that will stay on your wall for several years. And it will be expensive to replace or remove.
For example, the typical sand and cement rendering can easily crack, and water can penetrate through such cracks, leading to serious damp issues.
Besides, an ever-growing range of rendering products is available these days, superior to the more traditional lime render or cement renders. They are quite popular with renovators who want to extend period houses and offer through insulation and coloured renders.
Types of Exterior Rendering
There are many different types of exterior rendering, including:
Sand and Cement Rendering
It is the most common form of render and is a mix of cement, sand, and water applied in a topcoat, scratch coat, and paint coat for decoration.
The render is available readily and quite popular among builders. Besides, cement rendering is much harder and more potent than lime rendering. It is pretty much cheaper than most of the other rendering materials. But, it takes a lot of time to dry. Besides, if misapplied, it gets cracked easily and quickly.
Acrylic Rendering
Acrylic render is the same type as cement rendering but includes an additional product to the render mix, acrylic, a plastic that adds flexibility to the render. It is appropriate for several external rendering jobs. It is offered in different textures and colours.
You can acrylic rendering applied to brick, polystyrene, cement, existing render and painted wall do just fine. It requires a minimal application and dries faster, offering a smooth finish. Besides, it is hard to crack as compared to cement rendering. Also, it offers protection against UV rays and water damage.
Monocouche Rendering
In this type of rendering, an agent monocouche is used in a dry powder form with a coloured pigment. It provides breathability to the material.
These renders are applied in a single coat for faster installation. Besides, it doesn't need painting to decorate as the render is already coloured. Most commonly used monocouche renders are available such as Parex, Weber, and K Rend.
This render offered a chalky finish and scraped it to create a rusted effect. Monocouche rendering can be used on existing concrete, cement, brick substrates, and polystyrene. It is convenient to use, long-lasting for up to 10 years, weather-resistant, and quite flexible.
Polymer Rendering
It is a cement render applied to all the surfaces forming an effective bond. Polymer added to the render is extremely adhesive and is suggested when cement rendering or acrylic rendering may not be effective.
Besides, polymer rendering is recommended for wet areas of a building as additional waterproofing is not needed with polymer render.
It is best for external wall rendering as it is weather-resistant. It is ideal for several exterior rendering projects. In addition, these materials prevent cracking, stick on the wall in better ways, are lightweight, and reduce property wear and tear.
Besides the rendering mentioned above, there are other types of external rendering that can be applied, such as:
Pebbledash
It is a variation of sand and cement in which stones adhere to the surface while the finishing coat is wet.
Roughcast
It is also a cement and sand render type where the stones are incorporated into the render mix and applied to the wall.
Spar dash
In this render type, a scratch coat is applied, and the stones are attached to the surface when the finishing coat is wet.
Tyrolean
This type of render is weather and crack resistant to protect your wall.
Exterior wall insulating render
Phenolic or polystyrene insulation boards are attached to the walls to upgrade the insulation of the property.
Do You Need Planning Permission To Render?
Usually, you don't need to apply for planning permission for maintenance and repairs to the rendered wall. However, if you live in a sensitive location like a conservation area, you will require permission before you completely change the cladding of your home.
If you want to re-render walls, building regulations may also be applied based on the extent of the work.
Further, if your property is listed and part of a properties' group, it may be the case that your render will require to be a specific British Standard or RAL colour.
So, you must check your paperwork and deeds carefully before you start. If you need help & advice, contact our rendering company on 0208 629 1517.
To Wrap Up
To accomplish an attractive and weatherproof finish, homes are rendered externally. Render is also used because of the damaged brickwork or exterior of the house. Render your house in the best possible way using your choice of material which suits your pocket.
Moreover, it is an increasing trend to cover a house in more than one kind of material. Timber cladding and render combinations are quite popular.
Save more money by employing trusted tradesmen who will install the materials in the right order following a step-by-step guide. For help & advice on rendering exterior walls, get in touch.