Key Takeaways
Risk of Moisture and Dampness:

External wall insulation, if not installed correctly or maintained properly, can create a risk of trapping moisture within the wall structure. This moisture can lead to dampness issues, compromising the structural integrity of the building and affecting indoor air quality.

Aesthetics and Building Compatibility:

While external insulation can improve energy efficiency, it may alter the appearance of a building and may not be suitable for all architectural styles. Compatibility with the existing structure and local regulations must be carefully considered to avoid aesthetic problems.

Installation Complexity and Cost:

Installing wall insulation can be complex and costly, involving scaffolding and significant disruption to occupants. The upfront investment may deter some property owners, and the long-term benefits must be carefully weighed against the initial expense.
When you want to add value to your home, reduce your energy bills and prolong the life of your external finishes, external wall insulation is something well worth looking into. The problem is that it's a complicated balancing act to get right, and you'll only be able to do it if you have input from a skilled and experienced team of professionals. To make sure no stone is left unturned, we're going to talk you through everything you need to know.
Introduction to external wall insulation
External wall insulation consists of a number of key components, including insulation boarding, your choice of render and a waterproof top coat for aesthetics. Common materials for the insulating element of the installation include fibreglass, foam board, spray foam, blown-in cellulose and injection foam. No idea what the difference is or which one will best meet your needs? The key is to connect with our experts and allow us to guide you through everything you need to know. Job done!
External installation on a standard 3-bed home will take anywhere from 7 – 10 days and can take a little longer depending on the specific nature of your property. Use this as a rough guide if you're looking to have a setup installed and you won't go wrong.
Common problems associated with external wall insulation
If you think that you can tackle external wall insulation as a DIY project, we'd strongly advise you think again. Less is certainly not more when it comes to insulation, with anywhere from 6-10 cm in thickness being the optimum amount. The precise thickness will depend on the type of insulation and the nature of your property. If in doubt, ask an expert who will be able to make all of these decisions for you quickly and easily.
Putting too much insulation on, not enough, or fitting it poorly will result in a number of c common problems. Damp patches will soon start appearing on your internal walls, mould growth will rapidly take hold, and you can even see cracks and bulges in your new render and brickwork. This is largely because your home still needs to be able to breathe when the insulation is added. For it to retain heat it needs to be able to trap pockets of warm air, but if they can't escape at all, moisture will build up in the colder months and lead to the continual presence of surface water. Once this happens, you have a serious problem of your hands as the next section will show in no uncertain terms.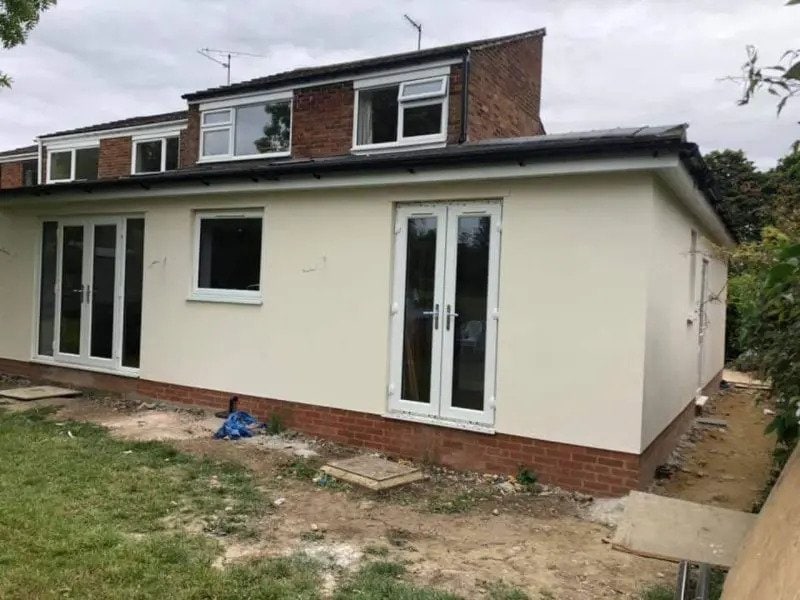 Moisture Issues in External Wall Insulation
External wall insulation will almost certainly cause damp if not fitted and installed correctly by a skilled professional. What may look like a simple job has many nuanced points, ultimately making it unsuitable for even the most skilled DIY enthusiast or general home repair and improvement company.
An experienced professional will know straight away how thick the insulation needs to be, and what materials to use, when assessing your home. They will factor in things like the typical weather where you live, the aesthetics you want to achieve, the style and nature of your external walls and other energy considerations. This is doubly important because once a moisture issue starts due to poor quality external wall insulation, you will often be left with no option but to strip it back and start from scratch.
Poor Workmanship on External Wall Insulation
Gaps, incorrect filling materials and poor quality joints will all detract from the insulation's ability to protect and serve your home. While we never wish to speak poorly of someone's work, this is most likely to occur when outsourcing installation to someone without the required experience.
Looking for specialists in external wall insulation is the only way to go, and don't be tempted to go for a general handyman who will invariably quote you a lower price. Experience is priceless in this case, especially when you consider it will cost £8,000-£16,000 to fully insulate an average size semi-detached house in the UK. The last thing you want to hear is that you have to strip much of it back 6 months later and pay someone else even more money to treat your property for damp and then finish the re-installation.
Thermal Bridging in External Wall Insulation
Thermal bridging is something you want to avoid because it unwittingly carries the heat from the outside of your home into the cold. This is no good because it bypasses the insulation, reduces your energy savings and can dramatically drop the energy efficiency rating of your property. Thermal bridges in external wall insulation are particularly liable to happen around trim features and windows and doors where a high degree of care must be taken during the installation process.
As is becoming a common theme in this piece, you won't be surprised to hear that the best way to get around these types of potentially costly issues is to hire a professional from day one. It's the only way to sleep with the peace of mind that comes from knowing your external wall insulation is functioning as it should for many years to come.
Cracks and Damage in External Wall Insulation
As with anything you add to your home, it can become damaged over time. Rather than seeing this as a reason to avoid getting external wall insulation in the first place, think of it as a reason to pay closer attention to the finished result.
A small crack may be something that doesn't particularly bother you from an aesthetic point of view, but it can make all the difference to the thermal insulation before you know it. Over time it will widen and deepen, reducing the overall integrity of the system you've installed. But more than that, it will provide an easily accessible point of entry for wind and rain to drive moisture into the structure of your property. When this happens you will quickly find that small issues on the outside of your home lead to much larger damp and mould issues inside.
The safest approach is to regularly assess your insulation's integrity and quality to ensure you're ahead of the curve when it comes to home repair. It's far cheaper to repair a small crack today than it is to fix something much bigger and pay for the course of damp treatment that's also required.
The Long-Term Costs of Neglecting External Wall Insulation Problems
In the worst case scenario you will incur three types of costs: higher than expected heating costs, replacement insulation, and a damp treatment for your internal walls. The heating costs can be substantial when you consider that correctly fitted and professionally maintained insulation can save you up to 40% on your bills. Refitting an average sized semi in the UK can cost up to £16,000 which is a lump sum many will want to avoid. And a damp treatment can vary in cost considerably depending on how long the problem has been left unattended. The longer you leave the issue, the more time-consuming and costly it will quickly become.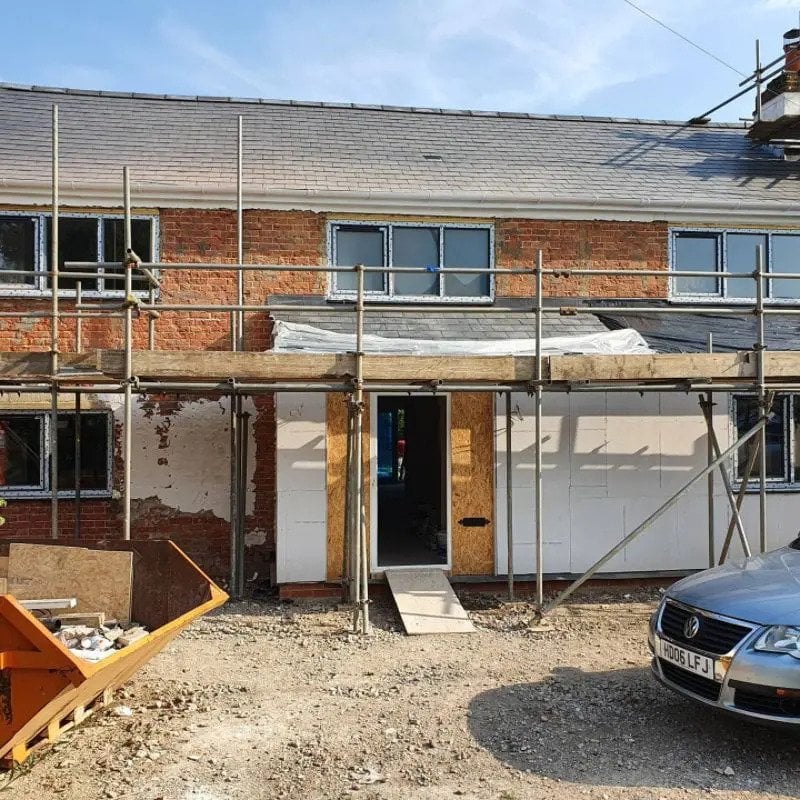 Understanding the potential financial impact of neglected insulation problems
£16,000 is towards the higher end of insulation costs in the UK, but the financial impact can do much further. Add the cost of the damp treatment to your running total and you still haven't got to the most costly item: your health. If insulation problems are neglected you will soon get damp which can trigger the rapid growth and dispersal of toxic mould. The mould spores will sit in your lungs, release toxins, irritate your lung lining and cause chronic inflammation and breathing difficulties.
While you simply cannot put a price on your health, you may find that things reach the point where you lose income due to time off sick. Taking action quickly is highly recommended and best for your physical health.
Importance of regular inspection and maintenance
Many types of insulation will have a 25-year lifespan but making sure defects and cracks don't arise is of paramount importance. Fixing a simple crack or emerging gap once you spot it is far quicker, cheaper and easier than unwittingly leaving a damp issue to build up over the course of several years.
A skilled professional will be able to quickly and accurately survey your insulation to make sure everything is as it should be. If they find something has gone awry you can put it right without delay, and if they give it the all clear you can sleep with true peace of mind. There's nothing to lose and everything to gain.
FAQ's
Who can help with external wall insulation?
The experts here at Advanced Damp are ready and waiting to talk you through everything you need to know. They'll be able to guide you through common issues, make recommendations and even provide damp treatments should you need them.
Should I just avoid external wall insulation?
No! External wall insulation adds value to your property while simultaneously reducing your heating and utility bills. Add it to your home and have the contact numbers for the experts in your back pocket and everything will turn out nicely.
How long does damaged external wall insulation take to cause dampness?
No one can put a definitive timeframe on things and it would be wrong to do so — weather, the nature of the damage, your type of brickwork and many other factors are at play. But what is without question is that the longer you leave things, the bigger and more costly the issue will become.
Can I treat my external wall insulation for damp myself?
While it may sound like a simple thing to do, there really is no substitute for experience. Our team here at Advanced Damp will guide you through what they plan to do and how it works, leaving you with nothing to do but sit back and give them the go-ahead.
Is toxic mould really just a scare story and a sales tactic?
Absolutely not! Every year thousands of people suffer asthma attacks and breathing difficulties triggered by the presence of toxic mould. It's a chronic problem and one that worsens the longer it is present. Removing mould and treating the damp that causes it as early as possible is the best possible way to protect the health of you and your loved ones.