Introduction to monocouche rendering
Due to the changing weather conditions in England and timely wear and tear, your house will inevitably degrade naturally over time. Fortunately, there are ways in which you can protect your house from these elements and maintain them properly. Monocouche rendering can help raise the property value.
So, if you are thinking about rejuvenating the appearance of your home and strengthening its insulation, rendering the house's external walls is the best way to achieve the finished look. When you start looking for various rendering options, you will come across render types.
The most popular choice nowadays is monocouche render. It is a great way to make a long-lasting impression on your visitors, potential buyers, and neighbours.
Let's discuss the monocouche render in-depth to find out whether it's worth using it for your home.
What is Monocouche Render?
Monocouche is a famous external house render that protects the house from various elements and gives it a beautiful thin flat finish.
'Monocouche' is derived from French, mono meaning single and couche meaning coat, which collectively means one coat render (thin coat render) or single bed or single layer. Monocouche renders originated in mainland Europe and have become a very popular choice in the UK.
Monocouche rendering lasts longer than other typical renders as it needs only one coat. Besides, it is also a coloured render. So, there is no need to apply masonry paint afterwards. All such points make monocouche render a high-quality, practical choice for several professional renders in England.
Moreover, monocouche rendering consists of applying a single coat in two passes, making it a unique cement render. It's only one layer helps in saving time and resources to a traditional two-coat system.
How is Monocouche Applied?
Like normal rendering mix, monocouche render also comes in bags, ready to mix with water before applying to the external walls. You can spray it on or use a hand trowel. Depending on the humidity and other weather conditions, it takes between five and thirty-six hours for the complete drying of monocouche render.
A single layer of monocouche renders is applied in two passes unlike traditional renders. It is essential to achieve smoothness in the first pass to apply the second. The mixture has been of correct workable consistency to have easy spreading.
Get a no obligation FREE quote now. Our team is here to help. Take the first step towards a guaranteed solution by filling out our form below. 
This is where the experience of a professional comes to play in the overall quality of the ultimate result.
Benefits of Monocouche Rendering
The experts recommend Monocouche renders over traditional render for their fast application, longevity, thickness, and the huge range of stylistic options available for the finish. Given below are some of the benefits which will help you choose monocouche render for your home:
Less time-consuming
Rendering takes between a few days and even a week so that each layer can dry completely before the next one can be applied. But with monocouche render, you don't have to worry about that. It is a quite thicker render, thus requiring only a single thin coat.
Available in a range of colours
Monocouche is a coloured render. Monocouche renders mixed with cement as a base so that they can become pre-coloured in a range of colours. It means there is no requirement to do paint on top of it as it already contains coloured pigment.
Once the coloured monocouche render is dry, the work is complete, and your house is left with a finished look.
Crack-resistant
Because of its flexibility, monocouche render is one of the best rendering solutions. You can reduce the risk of monocouche render crack with the help of certain additives used by professionals. You can also opt-in for a self-cleaning, high-end option that requires even maintenance.
Strong insulation
A single layer of monocouche renders around 15mm thick. It is enough to protect you from adverse weather conditions and defend your home against these elements. Thus, monocouche rendering offers strong insulation in just one single layer.
Applied directly to exposed brick
Monocouche render can be applied directly and easily to exposed brickwork. You can render old properties and add extensions to your property while keeping an identical smooth finish across the external walls.
Better energy-efficiency
Monocouche render has high thermal efficiency due to its thickness, unlike silicone render. Your home will be warmer during the winter months, and more energy-efficient with monocouche render. It is a great way to keep your house warm and reduce your heating bills.
Long-lasting material
The monocouche rendering can last up to more than twenty-five years. It is made up of high-quality construction materials, and you can expect to last that long without cracks or any need for repainting. It is the most durable render available at a low cost.
Weather resistant
Compared to traditional sand and other traditional methods of rendering, monocouche render acts as a strong contender against the adverse weather conditions of the UK regardless of how much wind or rain it throws at your building. It is completely waterproof and weatherproof with a longer lifespan.
What is the Monocouche Render Cost?
Modern and high-quality products often come with a higher price range, and monocouche is not an exception. Monocouche render is available in bags of twenty-five kilograms. Each costs between £10 and £25, depending on the colour and the brand. It is more expensive than the basic sand and cement render And costs between £8 and £11 per bag.
The material costs are significantly higher than are used in monocouche rendering. It is considered to be the only disadvantage of using a monocouche. However, if you see it the other way, it is not the expense but the investment you make in your home.
Besides, monocouche render has a cheaper and faster application which saves you quite a lot of money in labour cost. In addition, it also reduces the duration of the house improvements.
Moreover, when you add that repainting is unnecessary, the monocouche rendering cost does not seem high anymore.
Get a no obligation FREE quote now. Our team is here to help. Take the first step towards a guaranteed solution by filling out our form below. 
Why Choose Monocouche Render over Other Renders?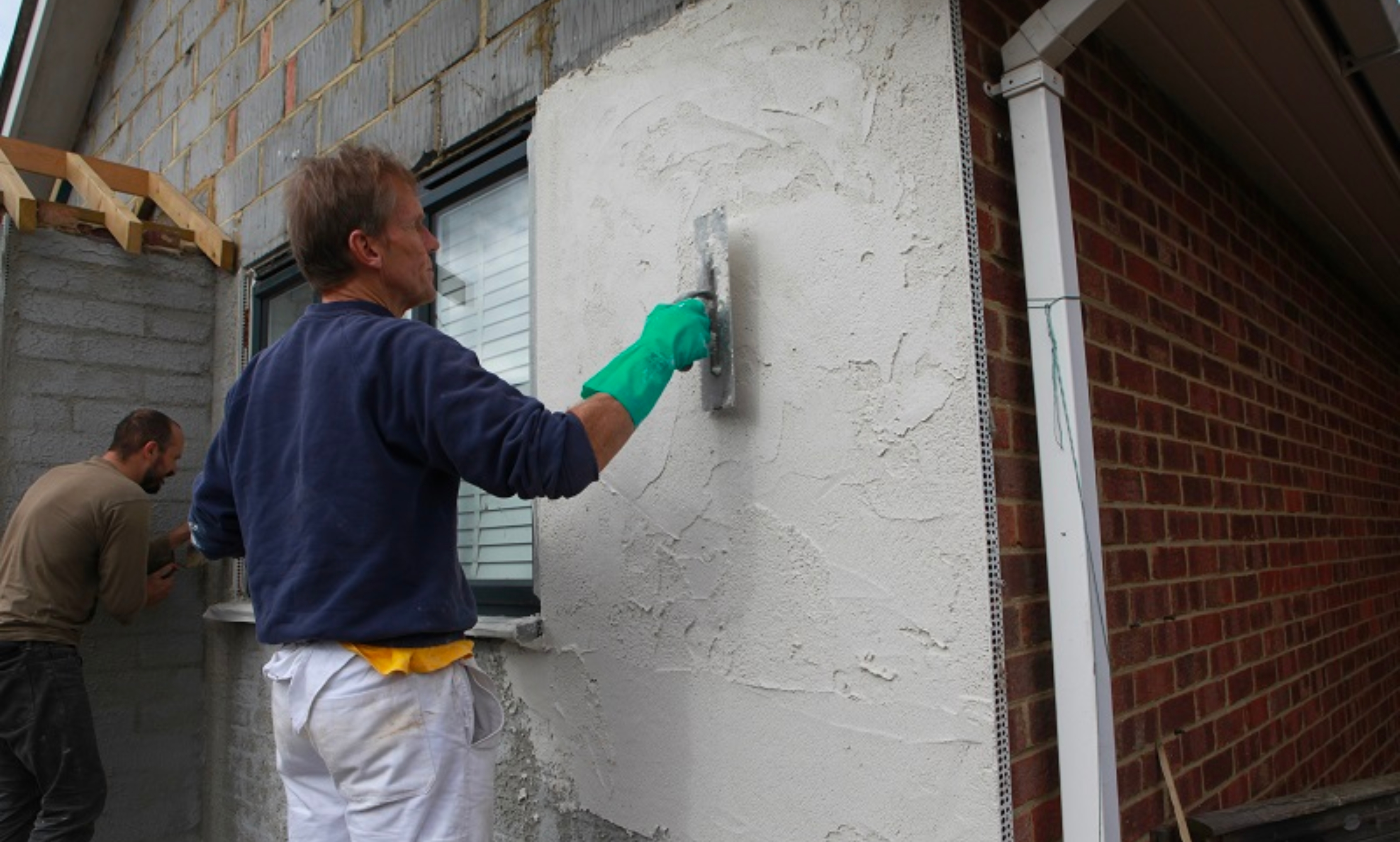 The cost of rendering a house varies depending on the area of your property, the size and experience of your tradesman and the house itself, in a few cases.
In the past, renderers were tasked with performing the job using a sand and cement render when a property owner decided to render. But, because of the advanced technology and other construction materials, monocouche render offers great benefits.
Monocouche renders are perfect for the rejuvenation of buildings and last more than twenty-five years if maintained properly. It offers a smooth texture and attractive finish to the property.
Frequently Asked Questions
---
What types of surfaces can monocouche render be applied to?

Monocouche render can be applied to various surfaces such as brick, blockwork, concrete, and even lightweight blockwork. It can also be applied to timber and metal-framed buildings as long as the appropriate surface preparation is carried out. It is important to note that monocouche render may not be suitable for surfaces with high movement levels aor those heavily contaminated with algae or other growths.

Can monocouche render be tinted to match specific color schemes?

Absolutely! Monocouche render can be tinted to match specific color schemes. This is achieved by adding pigments to the render mix during the manufacturing process. The pigments used can be adjusted to create a wide range of colors, from neutral tones to bold hues.

Whether you want a subtle shade of beige or a vibrant blue, the color possibilities are virtually endless. Just make sure to work with a reputable supplier or manufacturer to ensure the quality and consistency of the tinted render.

How long does monocouche render take to dry and cure?

Monocouche render typically takes around 1-2 weeks to dry and cure completely. However, this can vary depending on various factors such as the weather conditions, the thickness of the application, and the substrate to which it is applied.

It's important to note that while the render may appear dry on the surface, it may not be fully cured underneath. It's recommended to wait for at least a week before applying any finishing coat or paint.

What is the expected lifespan of a monocouche render system?

The expected lifespan of a monocouche render system can vary depending on several factors, such as the quality of the product, the skill level of the installer, and the climate conditions of the area where it is installed.

In general, a well-installed monocouche render system can last anywhere from 10 to 30 years or more. However, if the installation is not done correctly or if the product used is of poor quality, the lifespan of the system can be significantly shorter.

What are the problems with monocouche rendering?

Monocouche rendering, like any other construction material or technique, has its own set of problems.

Here are some of them:

Cracking: Monocouche rendering is prone to cracking due to various factors such as poor substrate preparation, insufficient curing time, and inconsistent application thickness. Cracks can be unsightly and may compromise the integrity of the render.

Discoloration: Monocouche rendering can experience discoloration due to factors such as exposure to UV rays, weathering, and pollution. 

Moisture problems: Monocouche rendering may experience moisture problems such as water penetration, damp, and mold growth. 

Poor workmanship: Monocouche rendering requires skilled and experienced applicators to ensure a proper finish. Poor workmanship can result in an uneven surface, missed spots, and other imperfections.

Limited color options: Monocouche rendering is available in a limited range of colors, which can be a limitation for architects and builders who want more color options for their projects.

Dealing with these problems can be frustrating and costly for builders and homeowners alike. It is important to work with a reputable and experienced contractor who can help mitigate these issues and ensure a successful project outcome.
Contact us now at 0208 629 1517 for a free quote on your monocouche rendering project.