Internal Wall Insulation Installers - ISOTHERM
Internal wall insulation works wonders in improving the thermal efficiency of your home and reducing your heating costs.
Internal Wall insulation can be used both in residential and commercial properties to improve indoor comfort and boost energy efficiency. There are several methods of adding insulation to interior walls each designed to reduce heat loss, and eliminate condensation and mould problems.
Wall insulation refers to the materials applied to walls to help regulate temperature and reduce energy consumption. It helps to keep the indoor environment comfortable, reduce energy consumption, improve thermal performance, soundproofing and fire resistance. There are various types of wall insulation available, such as batts, rolls, blown-in, and spray foam. The choice of material depends on factors such as the type of wall, climate, and budget.
ISO-THERM: The Ultra-Thin Wall Insulation Solution
If you're looking for an internal wall insulation solution, you might want to consider ISO-THERM. It's a unique and patented material made of specially woven polyester that is ultra-thin and lightweight. It comes in rolls of 1 meter wide and can be easily cut around light switches, sockets, and radiator brackets. It can also fit around and into window reveals with ease. 
ISO-THERM is fixed in place with a special adhesive and has a finished depth of approximately 10mm after a direct plaster skim coat. It's also vapour permeable and waterproof, making it highly resistant to any formation of surface mould.
Isotherm is an ultra-thin wall insulation solution that is easy to install and does not take up much space.
It is a cost-effective insulation option that can help save on energy bills by keeping the home cooler in summer and warmer in winter.
It is full waterpoof, protecting your home against damp and mould issues.
Isotherm is made from eco-friendly materials and is non-toxic, making it a safe option for homes with children or pets.
It is also fire-resistant and does not release any harmful gases in the event of a fire. – Isotherm can help reduce noise pollution from outside, making the home a more peaceful and quiet environment.
It is durable and long-lasting, providing insulation benefits for many years.
Call us today for A FREE Quote on 0300 373 7251
Where Internal Wall Insulation can be used?
Interior wall insulation can be used for improving interior comfort and energy efficiency in both commercial and residential environments.
Interior wall insulation improves comfort and energy efficiency in commercial and residential environments. Solid walls have alternating brick patterns, while cavity walls have even patterns and are over 260mm thick. Non-typical constructions like timber-framed buildings, steel or concrete require experienced installers.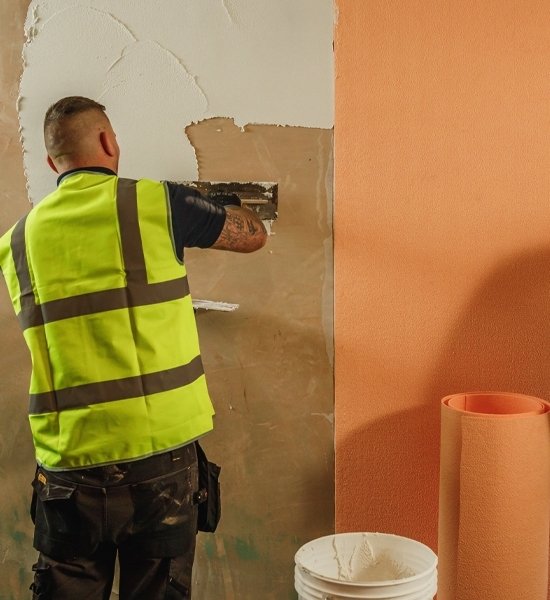 Benefits of Advanced Damp wall insulation include:
Reduced heat loss
Cost-effective installation
Protection against fire risks
Absorbing and blocking sound
Complementing environment aesthetics
Lowering costs of heating bills
Eliminates condensation & damp
Repair cracks in render & plaster
Waterproof your walls
Importance of Wall Insulation
Almost half of the energy exhausted in heating and cooling a home might leak without proper insulation. Consequently, insulation helps you in:
Saving considerably on energy bills.
Reducing energy consumption while limiting greenhouse gas emissions
Reducing dependence on rather expensive heating and cooling systems.
Improving the comfort of home.
Offers fire protection.
Having established these points, internal wall insulation further ensures that gaps are effectively sealed.
Call us today for A FREE Quote on 0300 373 7251
Calculator & Savings for wall insulation
The cost and amount required for internal wall installation depend on the property size, wall thickness and structure, and the number of walls needing insulation. 
Our internal wall insulation specialists can help you improve living comfort and save you thousands each year with the right solution. Insulating separation walls can save on energy bills, and we offer expertise to evaluate fire and acoustic abilities, meeting building traditions and country-specific requirements. We determine the thermal performance of the property's walls and potential cost savings.
Contact us now for wall insulation installers
There is a lot that goes into making a home or a property. Give your home the right care with internal wall insulation and keep the life inside it happy and fulfilling.
Our internal wall insulation experts are highly skilled and experienced in delivering the best solutions to your wall insulation requirements. All you have to do is reach out on 0300 373 7251 for a free quote.
FAQ'S - Internal wall Insulation questions
What is internal wall insulation?
Internal wall insulation involves installing insulation materials within the interior walls of a building to improve its thermal performance.
What are the benefits of internal wall insulation?
Internal wall insulation can reduce heat loss, improve thermal comfort, and lower energy bills. It can also help to reduce condensation and dampness within the home.
What materials are used for internal wall insulation?
Common materials used for internal wall insulation include fibreglass, mineral wool, and polystyrene. The choice of material depends on factors such as cost, thermal performance, and ease of installation.
Can internal wall insulation be installed in any type of building?
Internal wall insulation can be installed in most types of buildings, but it is important to assess the suitability of the existing walls and structure before proceeding.
Is internal wall insulation disruptive to live in while the work is being done?
The installation of internal wall insulation can cause some disruption to normal living, but it is usually minimal and can be managed with proper planning and preparation.
How long does internal wall insulation last?
The lifespan of internal wall insulation depends on the material used, but it can last for many years with proper maintenance.
Does internal wall insulation affect the size of rooms?
Internal wall insulation can slightly reduce the size of rooms, but this is usually only by a few centimetres and is not a significant change. By using our new product Iso-therm no space will be affected.
Is internal wall insulation cost-effective?
The cost-effectiveness of internal wall insulation depends on factors such as the type of building, the cost of energy, and the cost of installation. It is generally considered to be a cost-effective way to improve the energy efficiency of a building.
Useful links:
How to insulate internal walls
Can internal wall insulation cause damp?
How much does internal wall insulation cost?
What is the best insulation for internal walls?