How much does rendering cost? Unfortunately, it's an undeniable fact that your home will degrade eventually and will require a makeover. Your home will require a rendering job to make it weather resistant and aesthetically beautiful. Rendering walls is one the most popular forms of finishing the house's exterior in the UK.
What is House Rendering?
The process of covering the exterior wall surface with an adhesive agent such as lime-based render, synthetic coloured render, or sand and cement render to protect the brickwork is called house rendering. If the external walls of your home are not rendered, you won't be able to receive proper weather protection and insulation.
Typically, render mix contains cement, sand, and other types of aggregate, which you can choose according to your taste and requirements.
There is a lot to be said for external rendering walls. It is a part of your building heritage and creates a subtle, uniform finish. If done well, it doesn't require an extra foundation for support when done well.
Rendering keeps the rain out. It is a heavily cost-effective way to improve your house. Besides, it can make your home to be coloured in any way imaginable. The sand and cement render being the traditional render material, there are now modern aggregates available of superior quality, such as:
Regardless of which type of render you use, your home stands out when you have your old and ragged brickwork covered up. Superior quality renders applied to your walls can make your home look cared for and increase its value.
However, if rendering is done poorly, you may have to face unavoidable high-maintenance costs. The external walls can lose the fresh look with bubbles, cracks and mould appearing within months, making the cost-saving option look like a poor investment decision.
It would help if you had an experienced rendering tradesman with many years of experience who can overcome the different problems that he might encounter. A tradesman considers many factors while calculating the average cost of house rendering.
Even rough repair costs estimate require expertise and skills to cover all the factors. Furthermore, you can render over old render until the underlying surface render is sound and adheres to the wall over the entire area. You also need to ensure that all the existing render is not more than 15mm thick.
Before discussing the cost of rendering in detail, let's see why your house needs it.
Get a no obligation FREE quote now. Our team is here to help. Take the first step towards a guaranteed solution by filling out our form below. 
Importance of Rendering
Most houses need a facelift at some time or the other in their lifetime. Sometimes, just external weatherproof coat paint does the job. However, most houses need a waterproof render layer, especially if the brickwork has been somehow damaged or eroded.
The masonry paint may not be able to protect the house from water and other weather conditions. Furthermore, if your home has irregular surfaces due to years of neglect, you need a professional rendering job.
Insulation
At times, buildings without cavity walls would benefit from insulation. However, modern homes cannot utilize cavity wall insulation. Modern homes have very little insulating effect. In such cases, thermal insulation render can be of great help.
>> Also read; Thermal Imaging Survey
Though it is more expensive to install than cavity wall insulation, it is quite effective; you must have brickwork with intact waterproof pointing to use the cavity wall insulation effectively. Using external wall insulation renders the waterproof as well as insulates the house.
If you don't want to go for insulation render, you can use polymer render and acrylic render instead, as they have a higher wall insulation rating than lime render or cement render. Besides, you can also use modern monocouche render for the rendering process.
Moreover, if you are paying for the scaffolding and bearing the expense of rendering existing renders, then it makes sense to consider external wall insulation and render.
Weather Resistance
One of the basic and most common reasons to render external walls is to increase their weather resistance and reduce the maintenance costs of brickwork. The bricks are porous and usually cause water to ingress through the cavity leading to penetrating damp.
Also, the brick surface crumbles when water enters the outer layer, followed by cold freezing weather, resulting in the expansion of water into ice crystals. A final render coat can seal the bricks, effectively saving them from ice and water damage.
Damp & Mould
With the porous surfaces, your house is at threat of getting infected with dampness and mould. Damp compromises the structural problems within the house and aggravates the health issues. It can also damage the furnishings and the furniture.
Using a premium quality smooth render finish prevents penetrating dampness and mould from infiltrating your building. Though two or three coats of render can stop dampness from entering, it will not help get rid of existing mould and dampness in your house.
Thus, it is up to you to have your house treated for penetrating dampness, condensation, and rising damp, among other issues. The price of inserting a new damp proof course is approximately £30/m2 in addition to the cost of mould treatment.
Besides the benefits mentioned above, rendering a house is important as it enhances the aesthetic appearance of the old crumbling brickwork.
These reasons improve the house's value and heighten its curb appeal making it more desirable to purchase. Besides, it increases the house rendering's worth.
How Much Does House Rendering Cost?
In this article, you will find the figures compiled from several authentic online resources. So, you can use them as guidelines and regard them as average costs, as every property is different, and the number of charges varies.
If you want to exact house rendering prices, you must contact a professional, local and reliable tradesman or bricklayer. Meanwhile, you can go through the amounts below to approximate rendering costs. You can compare the size of your house to the ones mentioned below and get an idea of rendering prices.
2-Bedroom House
This property type is the easiest to render. The house rendering prices are mentioned for all, and this one is the cheapest as it is single-story and you save money on scaffolding. In such a case, the house render requires a small set-up to reach the highest wall sections. You require four to six days to render a building of this size with cement mortar.
You have people working in pairs, a tradesman to apply to render and a labourer to mix the rendering material and supply the same to the tradesman. Once a tradesman begins wall rendering, it must be finished else the cement will cure.
An experienced person applying the render won't cover adjacent existing walls meeting at a corner until the first one has dried completely. This method prevents the trowel from damaging the new render when working at a corner.
Costs
The cost of the 2-bedroom house is approximately £2500 to £3500 for a smooth render finish if using the sand and cement render.
Other types of render finish may take longer. For instance, the rendering price of a pebble dash is about £1000 more than a smooth surface. Besides, the painting costs of the pebble dash are also more. The method is time-consuming and involves high labour costs as well.
3-Bedroom Terraced House
This terraced house has a front and rear elevation only to render. However, there can be porches or extensions to render. In this case, it's assumed that there are not any. To render the entire wall seems easier. But this is not the case.
For example, if the building has two storeys, it needs scaffolding on both levels. Besides, it requires more than one day to render the entire elevation.
Many rendered houses have the render on the top storey above the lower render. Such an arrangement diverts the rainwater from running down the entire building height. Thus, creating a rendering layer on every storey independent of the other is ideal.
Rendering Costs
It requires five to eight days on average to render the 3-bedroom house. The cost to render this house is approximately £3000 to £5500. This case also requires two persons to complete the render job, one for mixing and delivering and the other for applying render.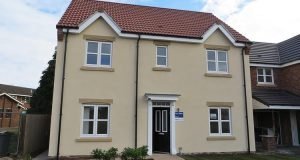 4-Bedroom Semi-Detached House
This type of house has three elevations for rendering. A semi-detached house may have extra walls belonging to porches or extensions. However, it is assumed in this case. The semi-detached house has two storeys. Hence, you need scaffolding on all the 3 elevations.
Besides, as it is a terraced house, rendering the entire elevation needs more than a day. Like the case mentioned in the 3-bedroom house, you must apply the upper and lower storey render independently of each other.
Costs
Rendering a four-bedroom house requires five to eight days costing between £3000 and £5500 on average. In this case, a team of two professionals is required, one for mixing and delivering and the other for applying to render.
5-Bedroom Detached House
A building of this size generally has outbuildings and extensions attached to the main house to split the boxy appearance of the large detached house. It requires several walls to choose from while rendering.
The professional renderer needs to make the best available time by creating a plan. Also, there are single-storey extensions that need to be rendered.
Costs
It requires scaffolding to reach the upper storeys for rendering elevation, increasing labour costs. This large building costs approximately £6500 for smooth rendering and may take up to two weeks or more to complete the rendering work.
It would help if you kept in mind that the render will not stick in heavy rainfall. Besides, the render may dry too fast and crack if the sun is too hot. Thus, choosing the right time of year, usually autumn or spring, is sensible for installing render.
Rendering Front of House
You would want to beautify the front elevation of your house to enhance the curb appeal or to expose only a single elevation to the weather. Regardless of the reason, several rendering jobs involve only a single elevation.
Costs
Scaffolding is needed to reach the upper storey, and a team of two is required, like in other cases. It may take three to six days to render a house and costs between £1500 and £4000 approximately. As another option, it may cost from £25 to £40/m2 based on the profile of the building.
Garden Walls
Apart from your house, other parts of the property may also require protection using rendering. Most people want to match the boundary walls and the garden patio with the rendering style of the house. Rendering a garden wall requires an expert to create a wall that complements the building.
Costs
The approximate cost for rendering garden walls may be between £25 to £40/m2. It is advised to install the lighting before you get an external wall rendered of the garden. Depending on the height of the wall, you might need scaffolding. But if you do, you won't need a full stationary scaffold. Instead, the tradesman can use a scaffold tower and move it along the wall as needed.
Get a no obligation FREE quote now. Our team is here to help. Take the first step towards a guaranteed solution by filling out our form below. 
How much does Rendering Cost?
Several factors affect the price of rendering external walls:
Scaffolding
The size of your property and the number of storeys decide the scaffolding amount. If you are rendering an elevation of the house, then you need fixed scaffolding. You can arrange the scaffolding from the company. Besides, most rendering professionals have their scaffolding, and it's their duty to arrange them. But it adds to the total cost of rendering.
Personnel
The render applies to persons who work in teams of two; a labourer who mixes and delivers, and the other is a tradesman who applies. However, in different case scenarios, the number of personnel may increase.
Weather & Time of Year
Heavy rains won't let render stick to the wall. Also, too much sunshine can cause the render to dry quickly even before the chemical reaction is completed leading to the appearance of cracks. It can also prevent the render from the bond with the underlying wall. Furthermore, snow and frost can cause problems as well.
The wet render, such as bricklaying, rendering, and plastering, depends on water remaining in the liquid state. Water expands below 4°C until it starts to freeze at 0°C. When water expands in the render mortar mix, the reaction slows down, and cracks appear. It gets worse when ice crystals are formed in the render. So, the rendering team can't work at too high or too low temperatures.
Location
The cost of rendering a house also depends upon its location. The labour costs vary greatly based on where your house is located in the country.
For instance, tradesmen in Southeast England and London generally charge more than those from other areas of the UK. So, if you are residing in Surrey, Essex, or any other areas around London, expect high bulls than if you live in Cornwall, North Scotland, or Wales.
Types of Rendering
The amount of money spends to render exterior walls also depends on the type of material you select for your house. Some materials are cheap such as lime render, polymer render, acrylic renders and others.
The new modern renders are durable but expensive, such as silicone render, monocouche render, various coloured renders and more. There are various new render options available, so consult the experts before making any decision.
Building Regulations and Planning Permission
Does rendering require building regulations?
It is worth noting that considerable rendering work will need to comply with the building regulations. The new rendering comes with regulations such the Fire Safety, Toxic Substances, Conservation of fuel and power, and more.
Do you need planning permission to render your house?
You won't require planning permission for rendering your building unless and until you live in a:
Area of Outstanding Natural Beauty
National Park
Conservation Area
Listed building
The Broads
Hire the Best Rendering Contractors
Choose your rendering company carefully. Before making any final choice, talk to them and find out the following about them, such as:
Ask for a quotation
Ask for references from previous jobs
How many years of experience do they have
Ensure the company has insurance cover
In addition to the above, ask whatever comes to mind regarding the rendering job and the company. You must feel safe and satisfied with the rendering company you are hiring.
To find out how much your rendering project will cost, get in touch with us.