Exterior wall coatings & external house Painters
Exterior wall coating professionals!
Advanced Damp is one of the leading exterior wall coating companies serving the South East of England. We offer the highest quality of waterproof protective coatings for your home. Exterior wall coatings are much more than your normal paint. Wall coatings are thicker, fibre-bonded, and high-pressure sprayed-on for maximum durability.
For a free quote on exterior wall coatings or external house painting contact us now 0208 629 1517.
Find my local specialist...
Call us today for more information on 0208 629 1517
Advanced Damp offers exterior wall coatings and damp protection for your home!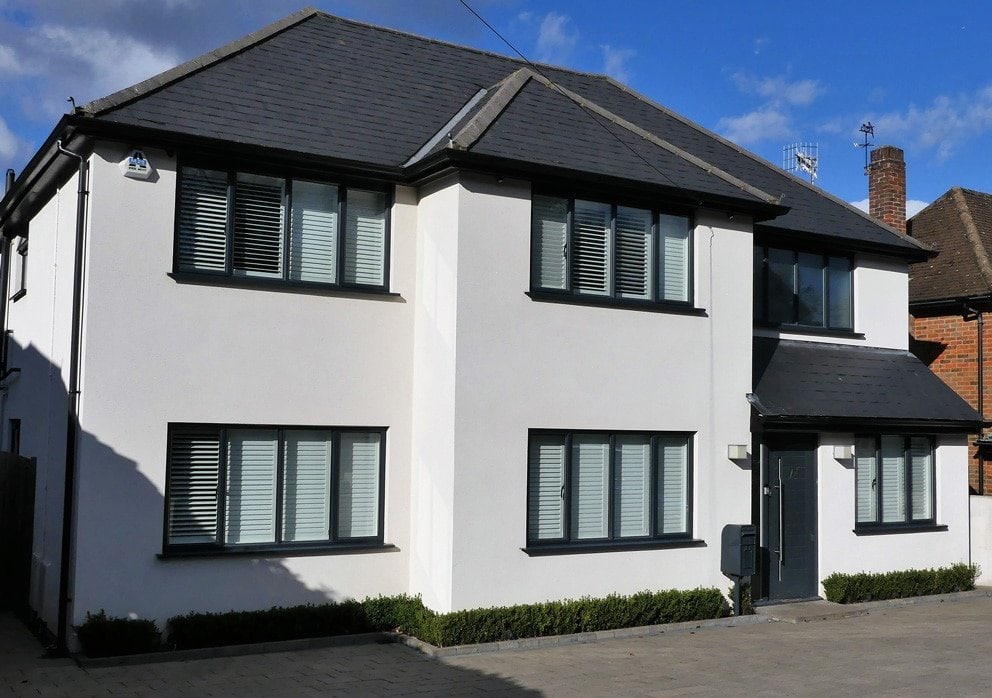 Spray-on weatherproof exterior wall coatings
When you need a long-term and efficient way to restore the external appearance of your property, exterior wall coatings are your best option. Whether it's from inclement weather or affected rendering, wall coatings can make any home look as though they were built yesterday! Along with the excellent appearance, it is the strongest and most durable type of paint on the market. Offering at least 20 years of protection over your usual paints. Wall coatings are fully waterproof protecting your home against penetrating damp from bad weather conditions. The resin-based coatings are also UV resistant, making them highly weatherproof. They are designed to be applied in spray form, ensuring the correct and even coverage for your exterior walls.
Advanced Damp exterior wall coating system
Improve the look and protection of your home! invest in our exterior wall coatings and never go through the hassle of re-painting again. We'll enhance the value of your home with this miracle of our waterproof coatings while providing an exceptional finish! With any defects or repairs carried out for free as part of the process, these would commonly include replacement rendering crack repairs and minor alterations. Our paint system is a high-quality painting job with a difference; We offer a 20-year guarantee with all our wall coatings and a free maintenance plan.
For a free quote on exterior wall coatings or external house painting contact us now 0208 629 1517.
Complete house protection service
Advanced Damp's wall coatings are designed to not flake, peel, or crack. You no longer need to worry about penetrating damp problems after using our fully waterproof coatings with added thermal resistance. Our coatings help keep the warmth inside your home, reducing bills and keeping condensation at bay.
House Rendering repairs
Render is the first layer on your home's exterior and protects it from water damage, but over time it will start to wear down just like everything else does. That means cracks are more likely to form which could lead to leaks or other moisture problems. Luckily we offer our own rendering repair service free of charge with our exterior wall coating jobs. Get in touch now to find out more about our full restoration and coating system to renew the outside of your home.
For a free quote on exterior wall coatings or external house painting contact us now 0208 629 1517.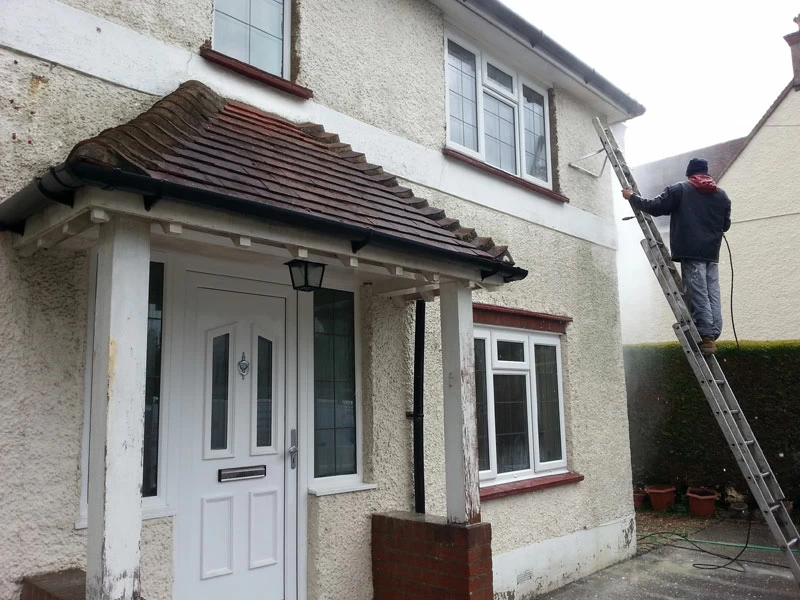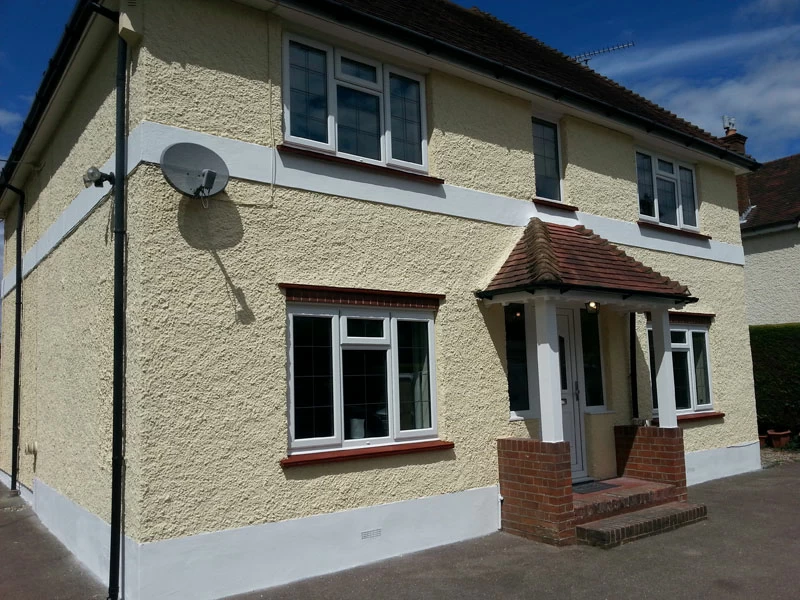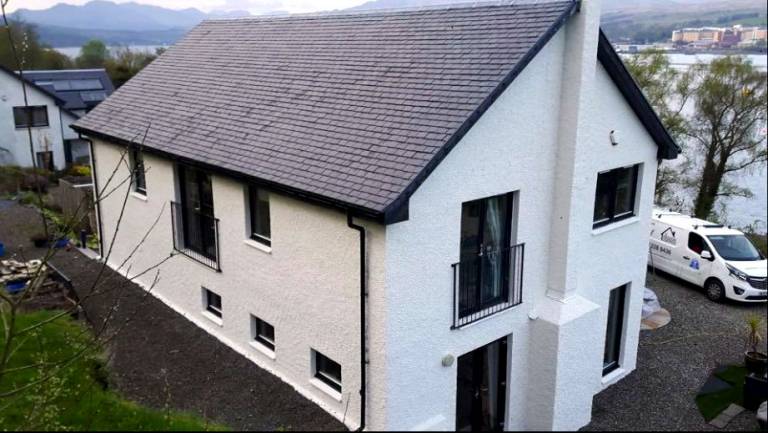 Free exterior painting house survey
Our coatings come in a wide variety of colours. Get in touch with our team to get a free survey of a wall coating specialist. We will advise on colours, types of paints, and thoroughly explain our work process. Our jobs are extremely efficient, we take 3-5 day to complete a full house coating. Contact us now to find out more.
For a free quote on exterior wall coatings or external house painting contact us now 0208 629 1517.
Frequently Asked Questions
Wall coatings are protective and decorative finishes applied to the surface of walls. They can be made from a variety of materials, such as paint, plaster, or tile, and are used to enhance the aesthetic appeal of a room or building, as well as to protect the walls from damage. Some types of wall coatings are also designed to improve the insulation or soundproofing of a space.
What types of wall coatings are available?
There are many types of wall coatings available, including paint, wallpaper, and various types of sealers and stains.
what are the benefits of wall coatings?
Wall coatings can protect walls from damage caused by moisture, mold, and mildew, as well as from scratches, dings, and other types of physical damage. They can also be used to improve the appearance of walls, either by covering up existing damage or by adding color or texture.
How do i choose the right type of wall coating for my needs?
The right type of wall coating will depend on the condition of your walls, the type of room or area where the walls are located, and your personal preferences. It's best to consult with a professional contractor or masonry paint expert to determine the best options for your specific needs related to your wall surface.
Can I apply wall coatimgs myself?
Applying wall coatings can be a relatively straightforward process, but it can also be quite time-consuming and messy. If you are comfortable with basic DIY projects, you may be able to apply wall coatings yourself. However, if you're not confident in your ability to do the job, or if the walls are in poor condition, it's best to hire a professional contractor. The wall coating products available on the market today are designed to be easily applied by a DIYer, but there are still some tips and tricks related to wall coating product that an experienced contractor can offer. It's important to make sure that you have all of the necessary supplies before beginning your project, including protective gear like safety glasses and gloves.
Do exterior wall coatings work?
Exterior wall coatings can be effective in protecting the walls of a building from the elements and prolonging the life of the structure. They can provide a waterproof barrier, as well as insulation and UV protection to help prevent damage from the sun.
Some common types of exterior wall coatings include:
Elastomeric coatings: These are water-based, rubberised textured coatings that can expand and contract with the building to help prevent cracking and peeling. They are a good option for stucco, concrete, and exterior masonry surfaces.

Acrylic coatings: These are water-based exterior coatings that can provide a durable, weather-resistant finish. They can be used on a variety of surfaces and can help improve the insulation of the building.

Epoxy coatings: These are chemical resistant coatings that can be used to protect metal surfaces, such as steel and aluminum, from rust and corrosion.

Silicone coatings: These are water-resistant coatings that can provide a durable, long-lasting finish. They are often used on metal surfaces, as well as on concrete and masonry.
What is thermal wall coatings?
Thermal wall coating is a type of exterior wall coating that is designed to insulate and improve the energy efficiency of a building. It works by providing a barrier that helps to keep heat inside the building during the winter and outside during the summer.
This type of external wall coating is typically made from a mixture of acrylics, silicone, and other materials that can reflect or absorb heat. It is usually applied to the exterior walls of a building in order to reduce heat loss or gain, and to make the building more energy efficient. It can also be used in conjunction with other energy-saving measures such as window film, roof coatings, and insulation.
Thermal wall coatings can provide a wide range of benefits, such as:
Reduce energy costs: By reducing heat loss or gain, thermal wall coatings can help to lower energy bills and improve the overall energy efficiency of a building. Because it's cost-effective, the investment will pay for itself over time.

Improve comfort: Thermal wall coatings can help to make a building more comfortable by keeping the interior temperature more stable.

Protect the structure: Thermal wall coatings can also protect the building from the elements, helping to prolong the life of the structure.

Reflectivity: some thermal wall coatings can have a reflective component that can help to reflect the sun rays back, reducing the amount of heat absorbed by the building.

Durability: Thermal wall coatings are often highly durable and can last for many years without needing to be reapplied.
Would you like to speak to an exterior painting specialist in London?
No obligation! Just a no-nonsense price