Damp proofing Ealing - damp specialists
Advanced Damp is a family-run damp proofing company offering local damp services in Ealing. Whether you have water ingress issues or rising dampness, we offer damp proofing treatment in Ealing at affordable prices to help you protect your property and repair any damage caused by dampness.
Contact us for damp proofing Ealing now on 0300 373 7251.
Ealing damp proofing treatment
If you live or work in the Ealing area and discovered any dampness signs in your building, spotted mould or want to damp proof your property, look no further than Advanced Damp specialists to help.
Experiencing unsightly damp patches, stained walls, and musty smell affecting your Ealing property can be extremely problematic. Besides, if left untreated, it can cause health issues such as respiratory illness and allergies that can be even worse. More common in older properties of Ealing where the original damp proof course may damage over time, rising damp can break down the wall plaster damaging them.
At Advanced Damp proofing Ealing, we understand how frustrating and unhealthy it is to live in such damp conditions. So our damp experts in Ealing help you to get rid of damp permanently with our best-known methods.
Years of Extensive Experience
Advanced Damp proofing Ealing has 30 years of vast experience behind us to make sure property gets damp treated by the best in the market. Our qualified and experienced damp surveyors London are pro at diagnosing the damp issues and recommending the best solutions for damp treatment. As a leading damp proofing and property preservation company in Ealing, we take pride in the reputation we have built through many years of dedication and commitment to our clients.
Want to know more about what services we offer? Call us, and we would love to discuss your home improvement and damp proofing needs.
Call us today for a FREE QUOTE on 0300 373 7251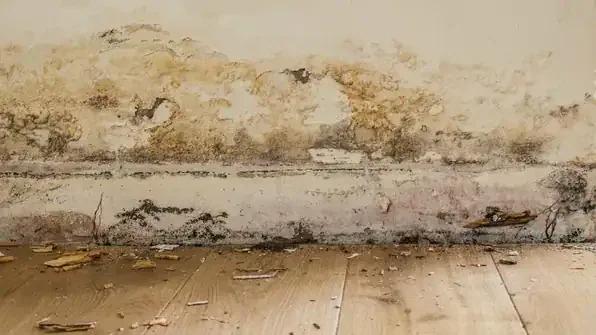 Rising Damp in Ealing houses
Are you observing yellowish-brown tide lines on your walls? Is your plaster in the lower area of the wall is blown? If it's a yes for either of the questions, then you are facing rising damp in your Ealing property.
Rising damp is caused in building due to the upward movement of moisture from groundwater through the walls by means of capillary action. Porous building materials allow the groundwater to pass through them in rising dampness and damage the structure. Besides, it brings ground salts along with damp which are hygroscopic. If left untreated for long, it may lead to cause black spots of mould, which in turn leads to health problems.
Our rising damp experts in Ealing can help you with the prevention and treatment of this type of damp. Our damp work involves the placement of damp-proof courses and maintenance. As reliable and reputable damp proofing Ealing, we can help you effectively to get rid of damp and repair the damages caused by it.
Professional Damp Proofing Ealing
Our damp proofing surveyors are well-trained and equipped with the right kind of standard certification, which helps inspect and analyse the damp problem looking for the right sources that caused it in the first place. Once the causes are identified, we move ahead to solve the issues. The rising damp treatment is then suggested based on its severity, but generally, it includes a blend of damp proof course and damp proof injections.
Contact us now and arrange for a London damp proofing surveyor to visit your property Ealing.
Call us today for a FREE QUOTE on 0300 373 7251
Penetrating Damp specialists
Penetrating damp is caused due to excess water infiltrating through the outer wall and into a building. It can occur via roofs, walls, or ceilings. Penetrating damp in the Ealing properties is usually the result of defects, including faulty guttering, defective seals, and cracks in walls, roof tiles, leaking burst pipe, defective masonry, porous walls, and more. 
It can cause severe damage such as deteriorating internal decoration, damaging plastering, rotting timber floors and skirting boards, brick damage, and mould growth. 
Get Help from Our Penetrating Damp Experts!
It is advised to seek the help of damp professional experts when experiencing penetrating damp in your property. If you need a damp local proof treatment company in Ealing, give us a call, and we can arrange a team of damp proofers for your property. Our penetrating damp treatment includes brick waterproofing to protect your building in all kinds of weathers. 
The quicker you act to resolve the penetrating damp problem, the less property damage will occur as a result.