Damp walls are a common problem for many homeowners. The cause of damp walls can be due to groundwater entering the building via rising damp, water ingress from the outside to the inside of the property, or simply condensation. If you have noticed any damp stains or patches on your wall, then contact our specialists today on 0800 861 1952!
Call us today for more information on 07562719091
We offer Specialist treatments for water ingress and comprehensive damp protection for your home!
Causes of damp patches on walls
If you have noticed damp stains, peeling decorations, or black spot mould appearing on your walls then one of the three types of damp outlined below is likely to be the cause. These include rising damp, penetrating damp, and condensation. The three most common causes of damp in your home. Identifying and understanding the root cause will lead to a more accurate plan for treatment; continue reading to find out which type of damp affects your home.


Rising damp causing damp walls
Rising damp is damp on walls that are only seen on the ground floor of buildings. The characteristic symptom of rising damp is a "tide mark" along the wall just below your skirting. Another giveaway sign for this type of damp is white marks left by salts pulled out from inside your brickwork, commonly causing much more damage to paint or wallpaper as well as a musty, dank odour.
Damp walls caused by condensation
Damp on walls caused by condensation typically manifests as black mould spots. Condensation problems are more likely to occur in the winter months and are most common in bathrooms where high humidity levels cause ceilings to drip onto materials such as paintwork or wallpaper below.
Damp on walls caused by penetrating damp
Penetrating damp is moisture that enters through a lateral wall. It can penetrate walls at any level of your property. If water management systems like gutters or downpipes on the outside of your property look damaged and/or blocked, then they are likely the source of a penetrating damp problem. A defective pointing or leaks in plumbing can cause penetrating damp problems with internal walls.
The patches will have left marks when plaster has been affected, there is sometimes a musty smell where the humidity levels have increased substantially and over time it starts to take its toll by deteriorating the fabric behind drywall (e.g., wallpaper).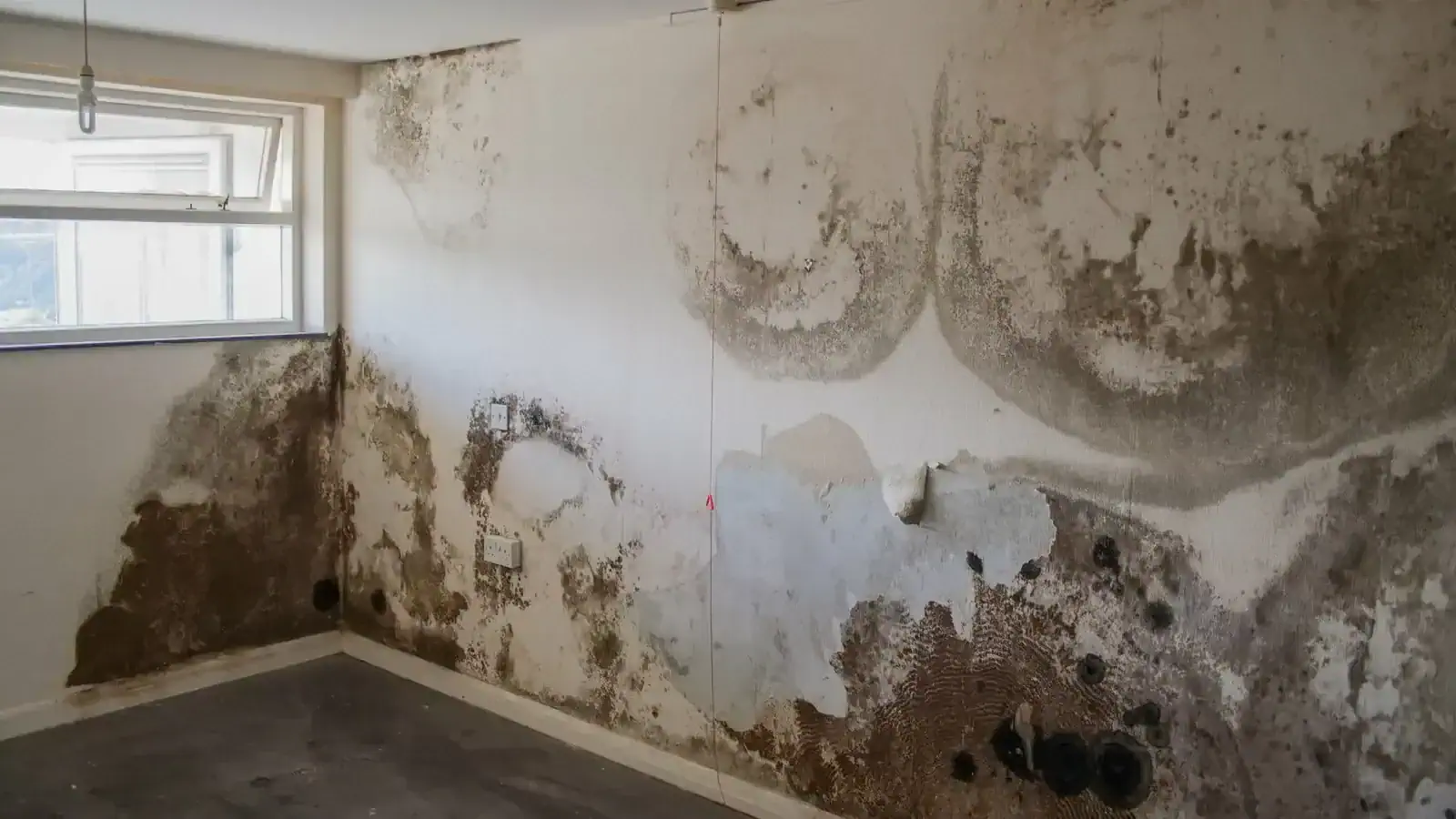 Damp stains will often be seen on the exterior walls of a home, even if you don't have any in the interior. Like wet tidemarks are found inside your home, moist patches outside are an indication that there is water on or getting into your property.
When looking for damp stains in these cases, it's important to look closely at joint lines and external soil lead penetrations because this can provide a visible source of moisture ingress.
Damp on walls: Internally
Damp on walls can be caused by any number of factors such as groundwater, moisture from outside entering the house, or condensation. These three types share some similarities yet have specific indicators as well–stained paint or wallpaper for example that might tell you whether it is structural rather than fungus-based.
From installing a damp course to using a dehumidifier, there are many options available for damp walls.
Damp patches often signal condensation; while rising damp is typically accompanied by a tide line that can reach up to 1 metre in height across the affected area of the wall. Meanwhile penetrating damp may appear at any level of the property but will have a corresponding defect on the outside of the property, allowing water ingress.


Damp is a common fixture in UK homes and can be caused by many things. Our experts offer the best strategies for the prevention and repair of your property.
In order to fix the problem and repair your walls, it is essential that you select the right form of treatment. Damp in the home can come from a variety of sources. Fortunately, there are four common types that need different treatments to get rid of damp in your walls:
Rising Damp: Groundwater rising up inside – install a "remedial" process;
Penetrating Damp: fix the leak that lets it into the property and wipe down siding if necessary, then do an interior response or treatment for any wet or dry rot. Brick waterproofing can be used for porous brickwork.
Condensation: can be caused by a lack of ventilation, or from outside water seeping in and finding its way inside the home. To fix this problem, talk to our specialists today on 07562719091.
Need to speak to a damp wall specialist? Contact Advanced Damp LTD!
No obligation! Just a no-nonsense price